Administrative Law Specialization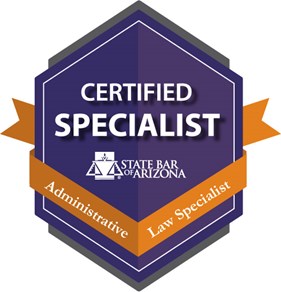 Board-Certified Specialists are Experienced. Respected. Tested. Certified.
You are eligible to apply to be board-certified as an Administrative Law legal specialist if you have been admitted to the practice of law continuously for at least 5 years, and during the 3 immediately preceding years you engaged in the practice of law within the State of Arizona and devoted at least 50% of a full-time practice to matters in which issues of administrative law were significant factors. Combine these qualifications with your high ethical standards, excellent peer reviews, specialized legal education, and tested knowledge to achieve the honorable distinction of Board-Certified Specialist.
Your experience in the field of Administrative Law will be measured by certifiable and demonstrable experience in administrative law in the areas outlined in the complete Standards for Certification in Administrative Law, and summarized here:
Lead advocate in a contested case, or presiding official in a contested case in the capacity of: Arbitrator, Judge for any court of record, Administrative Law Judge, Hearing Officer, or Mediator
Responsible for rule making proceedings at the municipal, county, state, or federal level
Responsible for providing legal advice to, or a legal representative for a government entity
Legal representative for private entity before a government entity or persons connected to government entity
Responsible for drafting requests for public information, or responses to same
Responsible for conducting government entity investigations
Registered lobbyist (not to exceed 15% of the 50% of practice in a single year)
Professor of Administrative Law or a substantially related subject
Clerk or Assistant for a presiding official in contested cases
Legal representative for private or government entity in procurement proceedings
Party Responsible for providing legal advice: To elected officials and election candidates; in licensing proceedings; in public employment proceedings; for Arizona or Federal Administrative Procedures Act proceedings; for drafting legislation at the federal, state, county or local level; or for drafting advisory opinions substantially related to administrative law by U.S. Attorney General, state Attorney General, or Bar association
Attorney representing a party engaged in alternative dispute resolution to resolve an Administrative Law matter
Party demonstrated to be eminently qualified through other substantial experience in the field of Administrative Law due to unusual or exceptional experience.
Interested in being a legal super hero and specializing in the area of Administrative law? 

---
For additional information contact:
Randal Westbury
Phone: 602.340.7326
Email: randal.westbury@staff.azbar.org
Payment for Application, Exam, and Pro-rated Fee can be made by calling our Resource Center at 602-340-7239. In addition to your credit or debit card, please provide your bar number, specialty area, and type of payment (application, exam, or pro-rated fee).
---