Bankruptcy Legal Specialization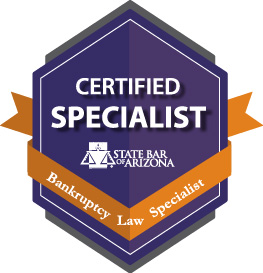 Board-Certified Specialists are Experienced. Respected. Tested. Certified.
You are eligible to apply to be Board certified as a Bankruptcy Law Specialist if you have been admitted to the practice of law for at least 5 years, and during the 2 immediately preceding years you engaged in the practice of law within the State of Arizona. After admission, you must have engaged in legal services in the area of bankruptcy and insolvency, such as reorganizations and liquidations, including the rights, obligations and remedies of trustees and receivership; state insolvency laws; and practice before the Bankruptcy Court and other Federal and State Courts equivalent to at least 50% or more of a full-time practice." 
Combine these qualifications with your high ethical standards, excellent peer reviews, specialized legal education, and tested knowledge to achieve the honorable distinction of Board-Certified Specialist.  Your experience in the field of Bankruptcy Law will be measured by:
Your substantial involvement in the field of Bankruptcy Law in at least 4 of the preceding 6 years, including the year immediately preceding the application 
You practice on an annual basis equivalent to at least 50% of a full-time practice, and annually devoting at least 33.3% of a full-time practice to matters in which issues of bankruptcy are significant factors, including representing parties in not less than 13 of the 45 categories outlined in the Standards for Certification in Bankruptcy Law.
Interested in becoming a legal super hero and specializing in the area of Bankruptcy law? 
---
For additional information contact:
Randal Westbury
Phone: 602.340.7326
Email: Randal.Westbury@staff.azbar.org
Payment for Application, Exam, and Pro-rated Fee can be made by calling our Resource Center at 602-340-7239. In addition to your credit or debit card, please provide your bar number, specialty area, and type of payment (application, exam, or pro-rated fee).
---