Construction Defect Law Specialization
Board-Certified Specialists are Experienced. Respected. Tested. Certified.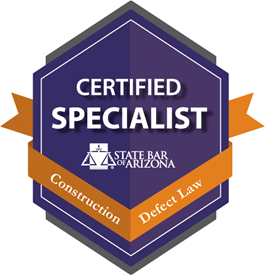 Construction Defect Law is the newest certification available to Arizona attorney's.  Applications will be accepted in 2022, so please check back to download an application.  You will be eligible to apply to be Board-Certified as a Construction Defect Law legal specialist if you have been admitted to the practice of law for a minimum of seven years, of which a minimum of three years immediately preceding the application must have been within the State of Arizona.  After such admission you shall have engaged in legal service (as defined in Section I of the Rules and Regulations of the Board of Legal Specialization) equivalent to at least 50% of a full-time practice.
An applicant shall give concise but specific explanations of the applicants' involvement in the following particular construction defect categories, and indicate the annual frequency of involvement in each category in each of the past 5 years:
Construction defect-related litigation or alternative dispute resolution matters
Administrative matters involving the Registrar of Contractors or the Department of Real Estate – concerning construction defect-based claims
Federal Fair Housing-based matters involving construction defect claims
Environmental law-based matters involving construction defects
The substantial involvement requirement will be determined to be met when an attorney handles a
minimum of two (2) construction defect law matters in each of the previous five (5) years; and
cumulatively over five (5) years reaches 13 points calculated as follows: One (1) point for each
construction defect matter handled during the previous five (5) years.
Combine these qualifications with your high ethical standards, excellent peer reviews, specialized legal education, and tested knowledge to achieve the honorable distinction of Certified Specialist. Interested in being a legal super hero and specializing in the area of Construction Defect law? 
---
For additional information contact:
Randal Westbury
Board of Legal Specialization Administrator
Phone: 602.340.7326
Email: Randal.Westbury@staff.azbar.org
---