Estate & Trust Legal Specialization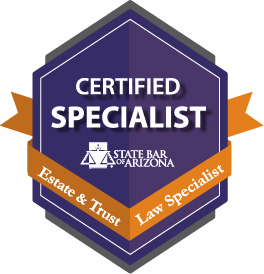 Board-Certified Specialists are Experienced. Respected. Tested. Certified.
You are eligible to apply to become Board certified as an Estate & Trust Law legal specialist if you have been admitted to the practice of law for at least 5 years, 2 of which immediately preceding your application were in the practice of law in the State of Arizona, and during which time you must have engaged in legal services in the field of Estate & Trust Law equivalent to at least 50% of a full-time practice. Combine these qualifications with your high ethical standards, excellent peer reviews, specialized legal education, and tested knowledge to achieve the honorable distinction of Board-Certified Specialist.
Your experience will be measured by your substantial involvement in matters in which issues of estate and trust law are significant factors, including actively involved in a minimum of five of the following substantial involvement categories:
State and federal estate, gift and generation-skipping transfer tax consequences of transactions such as gifts to individuals, trusts and charitable organizations
Preparation of state and federal estate, gift and generation-skipping transfer tax returns
Advice regarding the valuation of assets and partial interests in assets
Planning, drafting and implementation of wills and/or trusts; and beneficiary designations
Drafting and implementation of amendment and auxiliary documents
Drafting and implementation of business succession
Advice regarding applications for public benefits
Advice regarding completing transfers of assets by trust terminations or otherwise
Advice to a fiduciary or administration as a fiduciary of estate and trust
Acting as a trial counsel in contested matters
Interested in becoming a legal super hero and specializing in the area of Estate & Trust law? 
---
For additional information contact:
Randal Westbury
Board of Legal Specialization Administrator
Phone: 602.340.7326
Email: Randal.Westbury@staff.azbar.org
Payment for Application, Exam, and Pro-rated Fee can be made by calling our Resource Center at 602-340-7239. In addition to your credit or debit card, please provide your bar number, specialty area, and type of payment (application, exam, or pro-rated fee).
---