AZCLE® Volunteer of the Month
AZCLE® Volunteer of the Month - February 2022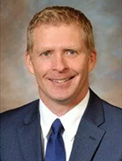 Dee R. Giles, Schneider & Onofry, P.C.
A multi-year Super Lawyers Rising Stars honoree, and a member of the State Bar's Professionalism Advisory Council, Dee Giles has a diverse civil litigation practice that includes representing employers and employees with employment issues, assisting clients with trust and estate issues, representation of personal injury clients and professional liability. He loves the opportunity to think creatively to solve problems for his clients in a pragmatic way.
Dee also enjoys helping families who are working to complete their family through the adoption process. He is an experienced appellate attorney and handles a variety of complex appellate issues and the identification of issues on appeal.
Dee has a diverse legal and work background that allows him to see legal issues from multiple perspectives that enable him to offer practical analysis and solutions. His legal background includes a broad range of legal disputes, including commercial landlord-tenant issues, real estate litigation, and estate and trust litigation.
Dee has spent nearly all of his career at Schneider & Onofry, P.C. Prior to joining Schneider & Onofry in 2007, Dee spent two years as a law clerk at the Capital Habeas Unit of the Federal Public Defender, where he did appellate work for individuals under sentences of death.
Dee is committed to giving back to the community and to active community involvement. In addition to his service with the State Bar, he serves actively in his local church congregation. He is actively involved in other community and church services and with the parent-teacher organization at his children's school. He has volunteered with Boy Scouts of America and other community organizations. When he is not at work, he enjoys spending time with his wife and their four children. He loves to travel and enjoys camping, hiking, skiing, and is almost always up for an adventure. He is a running enthusiast and has competed in multiple marathons.
Past Volunteers of the Month
2021
November/December - Patricia Sallen, Ethics at Law
August/September - Blake Ashley, Mindfulness Meditation
May - Doreen McPaul, Attorney General, Navajo Nation; President, Tribal In-House Counsel Association & Virjinya Torrez, Assistant Attorney General, Pascua Yaqui Tribe
April - Amanda Bynum, University of Arizona College of Law
March - Veronika Fabian, Choi & Favian PLC

2020
November/December - Ann Ching, Arizona State University
October - Matthew F. Schmidt, Schmidt, Sethi & Akmajian, PC
August/September - Asmahan Akam, Louis Comus, Jr., Jessica Cotter, Jeanne Vatterott-Gale, Joy Garvey, Marsha Goodman, David Horowitz, Taylor House, Negar Katirai, Caleb Lihn, Carla Miramontes, and Lisa Moore
April 2020 - Daryl Audilett, Audilett Law PC
March 2020 - David E. Shein, Shein Phanse Adkins P.C.
February 2020 - Ayensa I. Millan, Cima Law Group PC

Click here to view a full list of all of our 2020 AZCLE® Speakers.
2019
January 2019 - Kami Hoskins, Gordon & Rees
February 2019 - J. Scott Rhodes, Jennings, Strouss & Salmon
March 2019 - Amanda Salvione, Greenspoon Marder LLP
April 2019 - Anthony W. Austin, Fennemore Craig, P.C.
May 2019 - Alison Ferrante, City of Mesa
June 2019 - Edina A.T. Strum, The McCarthy Law Firm
August/September 2019 - May Lu, Tiffany and Bosco P.A.
October 2019 - Hope Kirsch, Kirsch-Goodwin & Kirsch, PLLC
November/December 2019 - Keith Berkshire, Berkshire Law Office PLLC
2018
January 2018 - Jennifer Kupiszewski, Kile & Kupiszewski LLC
February 2018 - Jennifer G. Gadow, Fromm Smith and Gadow, P.C.
March 2018 - Matthew H. Green, Law Offices of Matthew H. Green
April 2018 - William G. Klain, Lang & Klain, P.C.
May 2018 - Doreen Nanibaa McPaul, Pascua Yaqui Tribe
June 2018 - Andrew Jacobs, Snell & Wilmer
August/September 2018 - Sandra Bensley, Waterfall Economidis
October 2018 - Elizabeth Noble Rollings Friman, Fleming & Curti LLC
November/December 2018 - Annette T. Burns, Law Offices of Annette T. Burns
---