AZCLE® Volunteer of the Month
AZCLE® Volunteer of the Month - August/September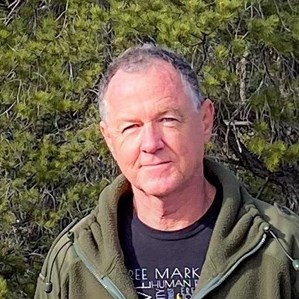 Blake Ashley, Mindfulness Instructor
After undergraduate work in chemistry at the University of Arizona, Blake Ashley graduated with honors from Loyola Law School in Los Angeles in 1988. He clerked for U.S. District Court Judge J. Spencer Letts in the Southern District of California and then went to work as an associate of the Los Angeles branch of O'Melveny & Myers. Blake then spent a few years in Phoenix at Kane, Jorden & Von Oppenfeld, a boutique environmental firm, before moving on to the Civil Division of the Tucson City Attorney, where he spent the last twenty years of his career before retiring in 2017.
Shortly after moving to Tucson, Blake began studying mindfulness meditation with Shinzen Young. After a few years of intense practice, Blake began teaching meditation at the Tucson Community Meditation Center (TCMC). He taught a weekly class at TCMC for fifteen years, until the Center closed temporarily due to virus concerns. Blake has continued teaching individual students and leading virtual workshops during the pandemic. With the kind support of the Southern Region of the Arizona State Bar, Blake has taught an annual mindfulness class for attorneys since 2014.
When he isn't teaching meditation, Blake volunteers as a subject and assistant at SEMAlab, a meditation-related neuroscience research project at the University of Arizona. He also enjoys woodworking with traditional hand tools, struggling to learn the Japanese language, practicing Kyudo, and most recently, the shakuhachi.
Blake has a website concerned primarily with meditation practice: https://noplacetostand.com/


Past Volunteers of the Month
2021
May - Doreen McPaul, Attorney General, Navajo Nation; President, Tribal In-House Counsel Association & Virjinya Torrez, Assistant Attorney General, Pascua Yaqui Tribe
April - Amanda Bynum, University of Arizona College of Law
March - Veronika Fabian, Choi & Favian PLC
2020
November/December - Ann Ching, Arizona State University
October - Matthew F. Schmidt, Schmidt, Sethi & Akmajian, PC
August/September - Asmahan Akam, Louis Comus, Jr., Jessica Cotter, Jeanne Vatterott-Gale, Joy Garvey, Marsha Goodman, David Horowitz, Taylor House, Negar Katirai, Caleb Lihn, Carla Miramontes, and Lisa Moore
April 2020 - Daryl Audilett, Audilett Law PC
March 2020 - David E. Shein, Shein Phanse Adkins P.C.
February 2020 - Ayensa I. Millan, Cima Law Group PC

Click here to view a full list of all of our 2020 AZCLE® Speakers.
2019
January 2019 - Kami Hoskins, Gordon & Rees
February 2019 - J. Scott Rhodes, Jennings, Strouss & Salmon
March 2019 - Amanda Salvione, Greenspoon Marder LLP
April 2019 - Anthony W. Austin, Fennemore Craig, P.C.
May 2019 - Alison Ferrante, City of Mesa
June 2019 - Edina A.T. Strum, The McCarthy Law Firm
August/September 2019 - May Lu, Tiffany and Bosco P.A.
October 2019 - Hope Kirsch, Kirsch-Goodwin & Kirsch, PLLC
November/December 2019 - Keith Berkshire, Berkshire Law Office PLLC
2018
January 2018 - Jennifer Kupiszewski, Kile & Kupiszewski LLC
February 2018 - Jennifer G. Gadow, Fromm Smith and Gadow, P.C.
March 2018 - Matthew H. Green, Law Offices of Matthew H. Green
April 2018 - William G. Klain, Lang & Klain, P.C.
May 2018 - Doreen Nanibaa McPaul, Pascua Yaqui Tribe
June 2018 - Andrew Jacobs, Snell & Wilmer
August/September 2018 - Sandra Bensley, Waterfall Economidis
October 2018 - Elizabeth Noble Rollings Friman, Fleming & Curti LLC
November/December 2018 - Annette T. Burns, Law Offices of Annette T. Burns
---