History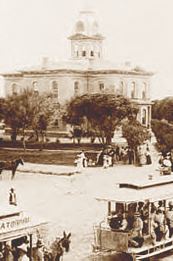 The Arizona Territory was formed in 1865, and already lawyers were practicing law in three judicial districts. In 1895, the first statewide bar association was created and lawyers held regular Bar meetings. In 1902, the Bar raised membership fees from $1 to $5. The Bar also led the rewriting of a civil code for the Territory that year and in 1904 strongly promoted the admission of Arizona and New Mexico as one state into the Union. Arizona became the 48th state in 1912.
The Arizona Bar Association was first incorporated in 1906 and in 1912 it adopted the ethical rules of the American Bar Association and began official admission procedures for the practice of law. The University of Arizona College of Law was created in 1925 to expand upon what had previously only been a department of study.
The State Bar of Arizona was created as an integrated or "mandatory membership" organization in 1933 by an act of Legislature to serve the legal profession and the public. At that time 654 attorneys and 22 judges worked in the state and only 175 belonged to the voluntary Arizona Bar Association. The State Bar has held annual conventions since 1933, except for 1945 during World War II.
In 1948 the State Bar of Arizona opened its first office at 234 North Central Avenue in Phoenix and hired its first employee, Mrs. Doris Odom, as secretary. Slightly more than 1,000 attorneys were licensed to practice law in Arizona at that time.
The first Executive Director, Don Phillips, was hired in 1954. Phillips served for 10 years before handing over the reins to Eldon Husted whose tenure lasted from 1964 to 1983. Husted prepared the first annual budget for the association in 1965 and it totaled $78,000. When Husted left in 1983, membership numbers had climbed beyond 7,000.
In 1973, the Arizona Supreme Court drafted Rule 31 (now Rule 32) which created joint oversight by the legislature and supreme court over the State Bar. That joint oversight ended in 1985 when the Legislature 'sunsetted' the 1933 State Bar Act, leaving the Bar under the sole oversight of the Arizona Supreme Court.
Today, the State Bar of Arizona employs approximately 100 people who work to ensure that more than 24,000 member attorneys have the skill, competence and ethical standards to serve Arizona's growing population.
---