Membership Fee Statement Filing Instructions
The steps for filing your Membership Fees Statement online or via mail are as follows:
Go to: membershipfees.azbar.org

You will be required to log into the azbar.org site to complete your Membership Fee Statement.
Once logged in, click "Membership Fees Statement" on the upper left side of your dashboard: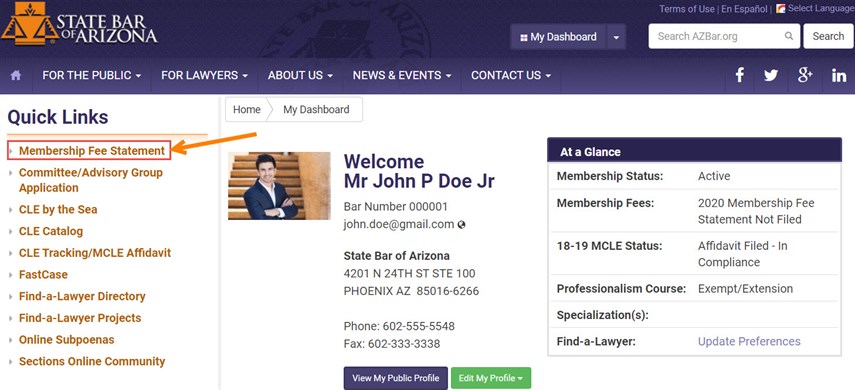 You will be directed to your Membership Fees Dashboard. Click the "File Statement" button to begin filing your Membership Fees Statement: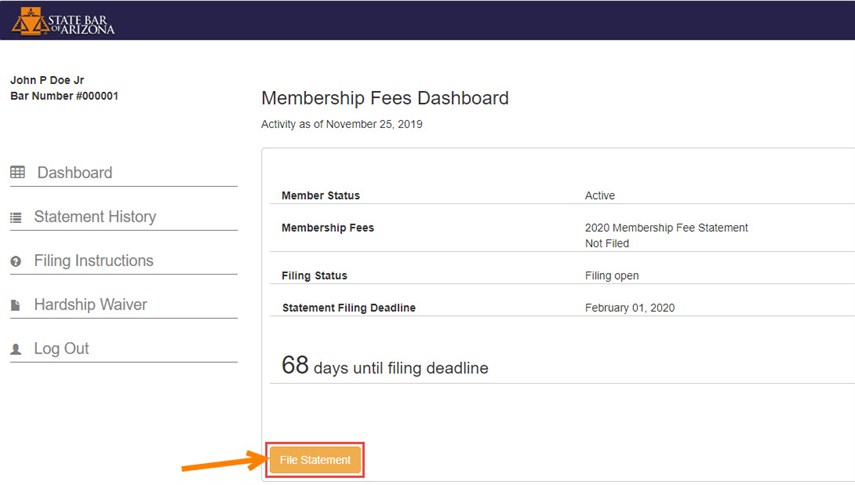 Note: During filing, you will see your Payment Summary on the left side of each screen. This information is for reference only, and is not directly editable.
Step 1: Membership, Specialist
Membership Category.  Your current membership category will be selected in the Membership Category panel by default. If it has changed, or you wish to change, click the button next to your appropriate membership category. Depending upon the change you wish to make, you may be asked to respond to questions to confirm eligibility.
Specialists Category.

 

 If you are a certified specialist, your current specialization information will appear here.  If this is incorrect, please contact the Specialization Department at 602.340.7326.
Step 2: Section Membership
You will see a list of Sections, with check boxes by the Section(s) in which you are currently a member. To continue in a Section, you need do nothing.  To add a section, check the box.  To leave a section you are already a member of, uncheck the box.  The adjusted total cost of section fees will be listed at the bottom of the screen.
Step 3: Insurance Compliance
Select Yes or No for the first question, to indicate whether you are an "active" member of the State Bar of Arizona and in private practice.  If you answer Yes to the first question, select the appropriate response for the second question, indicating whether or not you have current professional liability insurance.  Please note the following membership categories that do not require this notification: government lawyers, in-house counsel registrants, judges, and legal services lawyers. 
Step 4: Trust and IOLTA Compliance
Select the appropriate box. 
If you select box 3, "... the Arizona Attorney Listed below is responsible ...", you must enter the Bar number (all six digits) of the responsible attorney.
If none of the three exemptions/exclusions apply in the top section, continue to the lower section.  Be sure to enter the Trust Account information at the bottom of the page below the compliance bullet points.  Unless you have one of the top three boxes checked that exempt you from filling out the Trust Account information, you will not be able to continue on to the next page without that information.
Make any necessary changes to your list of Trust Accounts.  All information is required.  You may add, update or remove listed accounts.
Step 5: Voluntary Disclosures
Pro Bono Efforts.  This information is voluntary. Please enter any information regarding your pro bono legal services during 2021. 
Voluntary Legal Services Contribution.  This is activated by default, in the amount of $50.  If you do not wish to contribute, check the "I prefer NOT to make a financial contribution" box.  If you choose not to contribute, you will be asked to confirm.  If you would like to contribute an amount other than $50, select from the choices.  
Step 6: Membership Fees Summary
A summary of your Membership Fee Statement information will be displayed.  Please review it for completeness and accuracy.  If you find any problems, you may go back and edit the information at this time.  If all appears to be correct, proceed to the next step.
Step 7: Payment, Signature and Submit Statement
Payment Options. 

 

You have two options: paying online via secure transaction with a credit card or printing out your completed Membership Fees Statement and mail it with a check.

If paying online, choose the "Pay securely by credit card" option. Be sure to fill out the requested information completely and check the "I authorize the State Bar of Arizona to charge my account" checkbox. If you would like a receipt emailed to you, enter the email address to which you would like it sent. 
If paying by check, choose the "Pay by paper check" option. Read the instructions for choosing to pay by paper check and click the box to verify your understanding. 
Signature. Click "I agree" to confirm your signature on the Membership Fee Statement.
Click "Submit Membership Fee Statement" 
If mailing in a check, view your completed Membership Fee Statement by clicking the "Statement History" button on the left side of the screen. Print a copy of your Membership Fees Statement and mail it in with your check payment.
View Submitted Membership Fee Statement and Receipt
You may view your submitted Membership Fees Statement by clicking the "Statement History" button on the left side of your Membership Fees Dashboard. On the Statement History screen, click "View Statement" next to the year you wish to view.  Note that statement history will be available online for each year you filed online, starting with your 2018 fees statement.  If you paid with a credit card online, a "View Receipt" button will also be visible.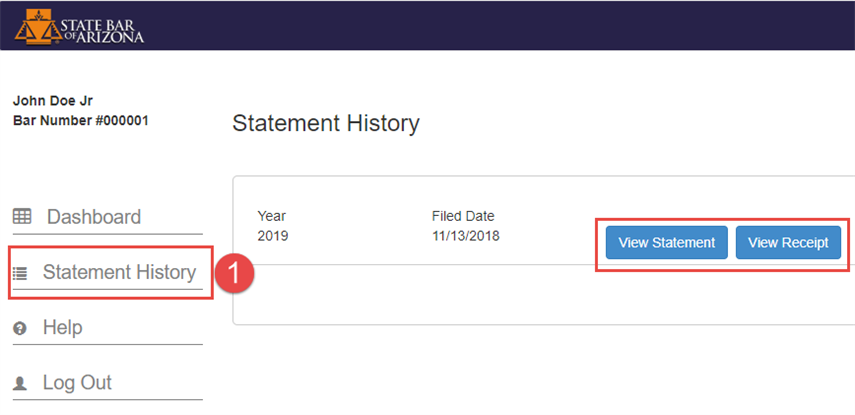 Print Temporary Bar Card
The State Bar uses a third party vendor to produce bar cards.  You may expect to receive your hard copy bar card approximately 6 - 8 weeks after your statement has been filed and payment is received.
If you need a temporary bar card you may print a paper copy by clicking the "View Temporary Bar Card" button on your Membership Fees Dashboard after your payment has been submitted online. 
If you choose to pay by check, your temporary bar card will be available to print once your check has been received.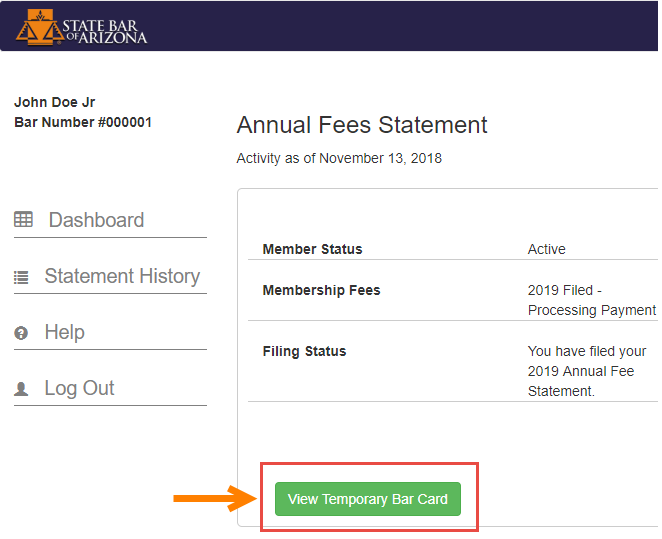 ---